Your Choice of Atmosphere - Superb Services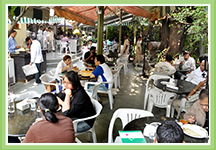 High quality food, sparkling clean restaurants, personalized service and hospitality – that is what Vaishali is known for! An atmosphere that is happening, very hygienic and varied – it has it all. Vaishali is famous for its facilities and service.
You can be sitting at the covered restaurant, or the wide-open garden restaurant, or even the rooftop restaurant. Surrounded by greenery you can feel the happiness radiate in the wide acres of Vaishali. You can choose a quiet nook or a friendly meeting place. Attentive and a very friendly staff, under the watchful eye of the management, will make sure that you will get exactly what you want – at the best quality.
Vaishali is after all the most popular restaurant in town.